Infected Hip Replacement
This is one of the most difficult areas to deal with. An infected hip replacement is a disaster for everyone involved; patients, nurses, doctors alike. An artificial hip has no blood supply, therefore antibiotics cannot penetrate it to remove infection.
The simplest deterrent is avoidance, that is avoidance of infection at the time of a hip replacement by meticulous surgical technique and other precautions. Despite all of this, some other factor may lead to an infection of the hip replacement.
Contrary to belief, the most common organism causing the infection is not MRSA, but a skin organism derived from the patients own skin (staphylococcus epidermidis). An infection can happen at any time, but usually occurs within the first 3 months following a total hip replacement.
If the infection is diagnosed very early, the hip replacement may be saved by washing it out, and administering antibiotics. If this is not possible then the implants are removed and infection is cleared up before re-implantation of the hip replacement. If the infection is very severe, multiple operations may be necessary, or the removal of large areas of bone to clear infection. This makes the subsequent hip replacement much more challenging.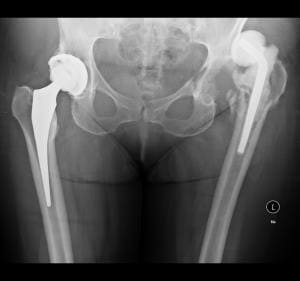 This case was referred following multiple washouts to clear infection. There was subsequent bone loss leading to dislocation of the antibiotic impregnated spacer. Infection was cleared before revision surgery performed.