Knee Arthroscopy
This procedure is commonly known as 'key-hole surgery' because it involves a camera attached to a thin  telescope, being inserted into the knee joint through small incision. This allows the surgeon to look inside the knee joint and identify any problems, small instruments can also be inserted via a second incision to treat some problems.
Meniscal tears
Removal of loose bodies
'Tidy up' of worn cartilage
It is the commonest knee operation performed.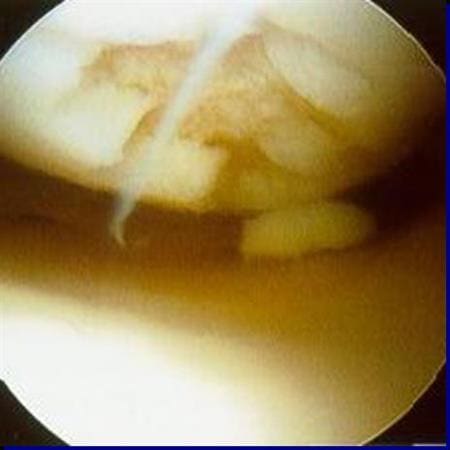 What is involved?
The surgery is usually carried out under general anaesthetic as a day procedure. A 'straight forward' knee arthroscopy takes about 20 minutes but this time will increase the more complex the problem within the knee. The knee is injected with local anaesthetic at the end of the operation – this is to help minimise post-operative pain and the incisions are closed with steristrips.
Microfracture
Microfracture is a procedure to treat chondral defects; this allows a blood clot to form which matures into fibrocartilage over time.  Small perforations are made in the bone to stimulate bleeding.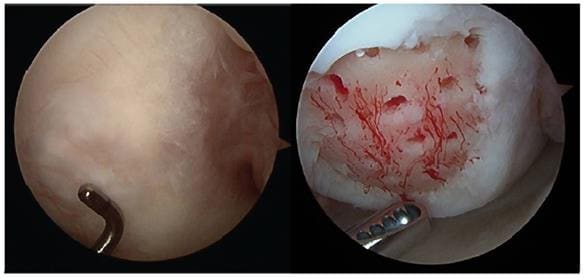 Menisectomy
Menisectomy is the commonest procedure performed when performing a knee arthroscopy. It involves removing the torn meniscus which can cause mechanical symptoms of 'clicking' and 'locking'.

Image showing what happens in arthroscopic menisectomy
Sometimes it is possible to repair the meniscus, this is performed with internal stitches used to stitch the tear back.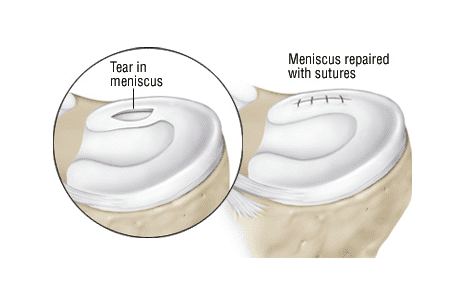 Recovery and Rehab
You will be seen by a physiotherapist after your surgery who will help you mobilise and you will be able to walk out of hospital 3-4 hours after your operation. You will have post-operative physiotherapy for a few weeks after and your mobility will improve daily.
You will be able to drive 5-7 days after
You will need around 1-2 weeks off work depending on your job
Your knee should be back to normal 6-8 weeks after your surgery.