Metal on metal hip replacement
Hip replacement is one of the most successful operations ever devised. The goal of a hip replacement is to remove your pain, give you the best possible function and have an implant that lasts as long as possible.
Conventional metal on plastic hip replacements may not be suitable for younger active patients, where the implant my require revision surgery within 15 years. As a result, newer bearing surfaces were developed, one of which was a 'metal on metal' (MOM) bearing (either as a hip resurfacing, or conventional hip replacement). The MOM gave excellent durability and a much lower chance of dislocation. This made it a preferable implant for younger people.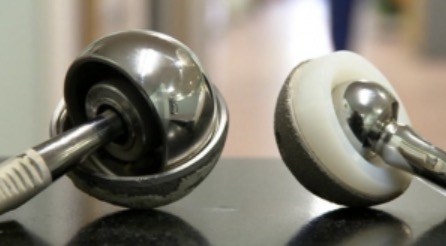 Left – Metal on metal bearing surface,
Right – Metal on plastic (conventional)
All hip replacements will undergo some wear, and it is the type of material used in the replacement (i.e. plastic, ceramic or metal) that dictates this. The particles released from metal on metal replacements are very small particles that can produce an inflammatory response in the local tissues and sometimes hip pain. This occurs in approximately 0.5% of patients. Often blood tests are used to assess whether they are a lot of the very small metal particles being released from the hip replacement.
Most implants have now been withdrawn to metallosis (a toxic reaction in the soft tissue) leading to bone loss, implant loosening and catastrophic implant failure. All stemmed MOM implants have now been withdrawn. Many hip resurfacing implants have been withdrawn. In some cases, there is still a case for performing a hip resurfacing. This is a narrow population, generally young males with good bone quality. If you are considering having a hip resurfacing, please ensure you ask about the implant used and its performance on the National Joint Registry.
If you have a MOM implant, you must have annual blood tests to check your metal ion levels (cobalt and chromium). If these are elevated, your clinician will arrange an MRI of your hip looking for any evidence of fluid around your hip with evidence of soft tissue destruction. If this is present, you will at some point be heading for revision hip surgery.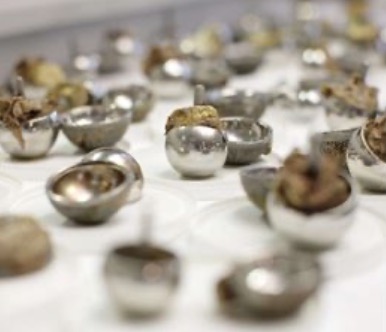 Retrieved implants from metal on metal failure
If you have concerns or questions about your hip replacement, contact the surgeon/hospital who undertook the initial procedure.
I DO NOT CURRENTLY PERFORM MOM HIP REPLACEMENTS